Software and interface
Masiste, as official distributor of Hydronix microwave humidity probes in Spain, provides all its customers with software and interfaces for microwave humidity measurement: Ethernet adapters and USB sensor interfaces to control microwave humidity measurement systems in any environment (dry or humid) in any industrial sector.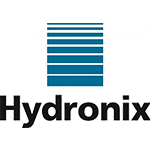 Software Hydro-Com
Hydro-Com software works with the most up-todate Hydronix sensors for microwave moisture measurement. Scalable and easy to use, its new QuickStart option allows you to pre-select a material type to speed up the start of the process. With the Hydro-Com software, you can:
Access, control and monitor any sensor from anywhere in the world.
Centralise quality management and reduce costs.
Total control with its multilingual interface.
Hydro-Com is compatible with Windows operating systems, allowing sensor parameters to be backed up and restored to create a database of material calibrations for use with the sensor.
In addition, Hydro-Com allows you to diagnose errors and update sensor firmware, log a single sensor or multiple sensors through the logging and trending section or graphically display any output variable in XML.
Hydro-Com's classification system stores all the settings of any sensor connected to the database.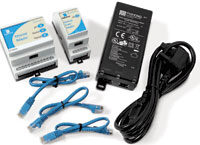 Ethernet Adapter
The Ethernet adapter kit allows connection of humidity sensors and their controls. The Ethernet adapter reduces wiring and provides sensor configuration and diagnostic functions via a remote connection. The unit is a small DIN rail module, which is compatible with networks using DHCP or fixed IP addresses. The adapter allows communication with up to 16 Hydro-Probe, Hydro-Probe Orbiter or Hydro-Mix sensors, diagnostics and Hydro-Com software configuration. With the Power Over Ethernet (IEEE-802.3af) standard, the Ethernet adapter eliminates the need for a local power supply and any associated cabling.
USB sensor interface
The USB sensor interface module is designed to allow easy connection between any of the Hydronix range of moisture probes, a PC or laptop. The interface allows easy configuration and calibration of the Hydro-Probe, Hydro-Probe XT, Hydro-Mix or Hydro-Probe Orbiter using Hydro-Com software.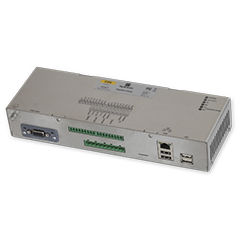 Hydro Hub
Hydro-Hub is a central point for connecting a Hydronix sensor network of up to 16 sensors to multiple systems simultaneously. The unit provides an easy method of data collection, plus configuration, diagnostics and sensor calibration selection. Connections can be made using the TCP/IP network, existing RS485 networks implementing the Hydro-Link protocol or via the fieldbus option.