High Precision and laboratory
Laboratories in industries and businesses of all sectors are ideal environments for the use of the precision balances, analytical balances, microbalances and moisture analysers that Masiste distributes. Trust us with your precision and laboratory balances and scales, you will obtain the ideal solution for your laboratory or commercial activity.
Precision balances
Masiste precision scales offer excellent accuracy of measurement parameters and performance in laboratories and various branches of industry, guaranteeing stability and significant resistance to environmental conditions. The precision scales allow measurement and weighing of heavy loads with 4-point protection system prevents overloading of the scale. With touch screen and intuitive operation, they allow access to numerous applications and functions, as well as automatic calibration. Masiste precision scales allow numerous data management options such as advanced reporting and graphing.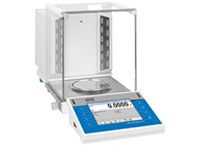 Analytical balances
Analytical balances allow the measurement of different laboratory processes accurately, minimising linearity errors thanks to powerful processors that ensure display stabilisation and repeatability. With touch screen and easy access to applications, they have a leveling system that facilitates the adjustment of the level of the device and continuously monitors the state of the level and informs about possible level deviations. The analytical scales allow contactless opening of the weighing chamber thanks to proximity sensors and precise data management for the creation of comprehensive reports and exhaustive statistical graphs.
Microbalances
Microbalances perform fast and accurate calibration of piston pipettes. With a colour touch screen, they allow non-contact operation by means of two programmable proximity sensors, which can be assigned to any function or application. They are equipped with an automatic door opening system, guaranteeing the elimination of vibrations that can disturb the measurement.
Moisture analysers
Masiste's moisture analysers are high performance, compact and easy to use. With quartz halogen or infrared technology and automatic temperature correction, they have a scale resolution from 10 mg to 1 mg depending on the version and a resolution of 0.01% of moisture. The Masiste moisture analysers allow RS232 data output, external calibration and a reading accuracy of 0.1%-0.5%, displaying a temperature range of + 50ºC - + 160ºC thanks to a 230 V 50 Hz power supply.