Masses and certificates
Masses are the main comparison measurement systems for industrial environments, allowing effective weighing and measurement of both small quantities and large masses. Masiste offers mass sets, individual weights and high capacity masses for any production sector.
Sets and individual weights
Masiste has a wide range of mass sets and individual weights made of high quality stainless steel as mass standards for calibration of high precision analytical balances. (OIML E1, E2, F1, M2) or mass weights in nickel-plated steel or lacquered cast steel for the rest of classification (M1, M2). The mass sets distributed by Masiste offer high resistance to corrosion thanks to their vacuum steel function, final stage electrolytic polishing and final calibration by means of
mass comparators.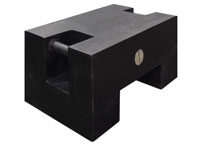 High capacity masses
Masiste's high capacity doughs allow for safe lifting and stacking, saving time by fitting to common pallet jacks and fork lifts. Large capacity doughs feature an evaporative pattern that protects them from corrosion and scratches. Smooth, weather-resistant construction prevents the accumulation of dust and dirt.