Industrial weighing systems: industrial scales for any industrial activity
MASISTE develops and markets industrial weighing systems for any company or sector. Industrial scales and balances are used for the precise weighing and measurement of industrial elements: construction materials, food ingredients, vehicles or structures, among others.
MASISTE guarantees fast and efficient industrial scales, accurately measuring all types of products, reducing their calculation error to a minimum, which will save us time in a global measurement. MASISTE offers you from the smallest piece counting scales to pallet weighing scales for large quantities.
Buying MASISTE industrial scales is the best solution for industrial weighing in your company or business, trust us with your industrial scales.
Hybrid scales
Hybrid scales can be flush-mounted or floor-mounted. In the case of flush-mounted scales, they consist of a frame or frame, bridge and levers together with a load cell. For recessed or above-ground installation, they are manufactured in painted steel or stainless steel in almost all the sizes required for their application. With a high-strength bridge and self-supporting frame, they have a protection and load cell with IP-68 protection or if also for ATEX. Their hybrid system of reduction by asymmetrical levers, by means of hardened steel blades and bearings allows these scales to be adapted to the capacity that is necessary in the project. Possibility of customised manufacture and various options such as backrests for bags, roller tracks, upper hoppers, various supports according to customer specifications.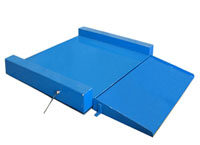 Low-profile scales
The flat-bed scales have 4 load cells, with a weighing surface of less than 50 mm. With tubular and angular profiles that vary according to the dimensions and capacities of the scale, the load cells are located on the sides, outside the weighing surface, protected by an upper profile that also acts as a rail and contains the junction box. The low profile scales have height-adjustable pivoting feet and include an access ramp. Their protection is IP68, their standard sizes range from 800x800 to 2000x1500 and various options according to their made-to-measure manufacture.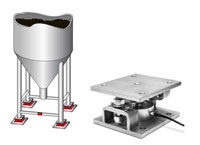 Weighing of silos and bins
In Masiste you can find different weighing modules for silos and warehouses. The integration of a weighing system in a product container structure is carried out. Trust in Masiste the purchase of weighing systems for silos and tanks for your industrial activity.
Weight indicators
Masiste's weight indicators are designed for a wide range of manual and automated weighing applications to allow operation in the most adverse conditions. With LED or LCD displays and touchscreen systems, and enclosures ranging from IP54 to IP 68, and IP69k, the industrial weight indicators can allow multiple platforms to be connected to the same indicator and with a connection of 12 or more load cells depending on the indicator model.

The indicators can offer multiple communications as required by the customer such as RS232/422/485, Ethernet, Profinet, Profibus, Wifi etc. The indicators, some of the indicators can have an internal battery or printers. Weight indicators are also available with product management, dosing, truck transit, production control, etc.
Pallet weigher
Masiste's pallet weighing scales are highly resistant weighing systems with IP68 and IP69k protection in their cells, they have four load cells or hybrid scales, these platforms are transportable in the above-ground versions. The dimensions can vary according to the needs of the project, as they can be made to measure with various options: upper platform, or any adaptation according to customer specifications. The pallet weighing scales can be made of painted steel or stainless steel AISI 304 or 316.
Weighing bars
The weighing bars allow mobile and/or separate use, with standard lengths of 500, 1000, 1250, 1500 and 2000 mm or made to measure on request. The protection of their cells can vary from IP-66 to IP68 and IP69k, their capacity can vary from 300 to 3000 kg between the two bars. The weighing bars have 2 load cells on each bar and 4 adjustable feet per bar. The weighing bars, which offer the possibility of custom manufacturing of the weighing bars and their couplings for different structures, allowing any structure to be converted into a weighbridge.
Aerial scales
Masiste's aerial scales have been designed to be inserted in an aerial rail transport line in slaughterhouses and cutting rooms, drying rooms, etc. The chassis of the scale is placed on the rail support beam. The rail has to be cut in the shape of an arrow in the weighing area for better entry and exit of the transport trolleys. This cut is fixed to the weighbridge by means of tie rods and in this way the weighbridge can weigh the load of the hooks running on the rail.
Livestock scales
Livestock weighing scales can be valid for legal metrology, allowing continuous use and mobile weighing. The dimensions of these scales can vary according to the specifications and the type of livestock and/or animals to be weighed on them, the load cells of these scales can vary from IP-6 protection to IP68 and IP69k protection with capacities up to 3000 kg.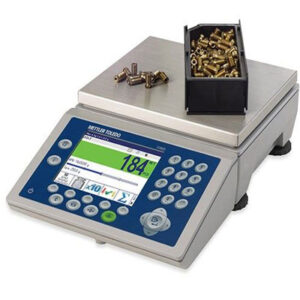 Parts counting scales
Parts counting scales are a versatile solution that can help you increase accuracy and avoid costly errors. Very useful in the manufacture and distribution of automotive parts and electronic, plastic and metal components. The counting scales can be connected to an auxiliary platform (weighbridge). The Masiste counting scales have IP44 protection or higher depending on the model, the display has sections for unit weight, total weight and number of pieces, audible warnings of quantity/maximum weight, direct access numeric keypad and overload protection. Optionally, RS232 output is available. It can also have an internal rechargeable battery.
Tare weight scales
Tare weight scales have protections that can vary from IP44 IP65/67/68 depending on the model. With keypad and backlit LED or LCD display depending on the model, these scales can be fitted with an internal rechargeable battery for flexible operation in all production facilities. Their stainless steel weighing pan allows weighing in g, t, kg, lb and oz, basic weighing functions (zero, tare, gross and net), piece counting, limit functions, weight in percent and optional RS232 output and printing, limit lights.