Hydraulic / pneumatic on-board weighing
Masiste specialises in offering its customers the best hydraulic and pneumatic on-board weighing solutions for all production sectors: agricultural, industrial, pharmaceutical, food, weighing and control systems offering the most technologically advanced solutions on the market.
Milenium 5: Truck onboard weighing system
Milenium 5 is a precise and easy-to-operate on-board weighing and production control solution that allows fleet operators to control loads moved, reducing transport costs and improving productivity. Milenium 5 can be incorporated into wheel loaders, bucket or grapple excavators, rigid dumpers, articulated dumpers, underground LHD vehicles, self-loading concrete mixers, forklift trucks, road and waste collection vehicles, container loaders, round balers and agricultural trailers. Milenium 5 has an interface that allows easy use and updating at different user levels and wireless connectivity that makes weighing data available anywhere in real time, as well as connecting to dispatching systems with established communication protocols available.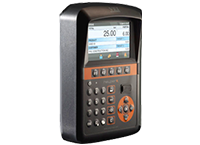 Helper X
Helper X is an advanced level on-board weighing system, from which you can manage the payload data you need for tracking and billing of loads, ideal for locations without weighbridges and for product mix. With wireless connectivity, easy installation and configuration, it allows for a screw of weighing: target, incremental, recipe, separate truck and trailer load... In addition, it allows the printing of delivery tickets and sales and production reports by high-speed thermal printing, showing the weight in real time thanks to its remote display outside the cab.
Helperxe Excavator
Highly accurate weighing system that avoids overload penalties with the right load from the start. Thanks to Helperxe Excavator you can reduce production costs and cycle times on the weighbridge, eliminating weighbridges and related costs. Helperxe Excavator enables efficient load tracking, USB data transfer at no additional cost, comprehensive management of the loading process with delivery ticket printing and data sent to the billing system in real time via wireless cellular technology, real-time query of loading and production data from any remote system.
Helper Mini
Helper Mini is the simplest and most cost-effective solution for VEI weighing, allowing it to be placed in the cab of any weighing tool or cabin. With a blue/white LCD display and easy-to-use interface, it features plug and play connection to the printer. Highly accurate, it prevents overloading or underloading and can perform target and incremental weighing, product load tracking and truck load printing.
Ipotweb.com
Ipotap is a tool for controlling the production and sales in real time of a front loader, an excavator, a container crane, a forklift, a mining or road truck or even a rubbish truck. Supported by ipotweb.com, a web portal made by VEI to analyse production and sales data by downloading their app from the App Store and Google Play.